Well our time has come to an end.
I have learned so much along this journey, I have went from thinking paper resume, paper portfolio was the only way to get a job, to now having a complete and professional ePortfolio that I am SUPER proud of!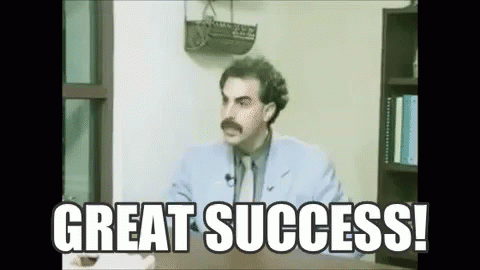 Via GIF Tenor
I have also learned so much about technology and how to use it properly being able to understand how to make a blog post to share to the world or even just sharing resources through the wonderful world of Twitter has blown my mind and made me re-think the way I browse on my laptop. I used to just aimlessly go on my laptop and get most of my interesting facts/articles from Facebook but know I know there are awesome tools such as Feedly that will sort through the awesome information out there and give you reliable sources with great information!
And where do I even begin with Google Chrome Extensions, those have BLOWN MY MIND. Literally I wish I would have taken this class in my first year, NO, they should make this a mandatory first year class because the information and apps I got from this class would have made my life so much easier during my University life (Like Onetab, Really how did I live with out it) but now I can utilize them in my Teaching career and I am so Thankful for that!
Most importantly what I learned in this class was developing a Positive Digital Identity.
What struck me the most was coming into the class, I hide from the internet, I am hard to find on social media platforms, I don't use my real name, I did not have Twitter, rarely use Instagram, and if it wasn't for my family being in New Brunswick and Florida I really wouldn't have Facebook. What changed my mind was Katia explaining how it can almost look worse to not have an online presence vs having a positive online presence. When an employer Cyber Sleuths you and don't find ANYTHING it is almost like, what are you trying to hide ? BUT When you have a bunch of positive search results that leaves a better impression.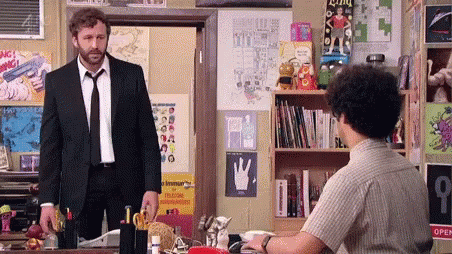 Via Gif Tenor
So I am going to share with you a video I made using Keynote, of my Summary of Learning of my EDTC 300 Journey. I actually wrote a song with my own lyrics using a back track of a Violin cover of a Zelda Medley by Lindsey Stirling. I used the program GarageBand to mix and record my song. Hopefully you enjoy!
Toodle-Loo!